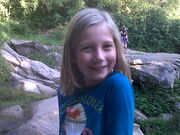 MyHobbies
Edit
MyFavorite things to do are to play soccer, archery, burp, dance, swimming, and hang with my dog, Snoopy.
MyFriends
Edit
MyMood2day
Edit
Today I am feeling excited :) YAY!
July 30th, 2012:
I hope my bow and arrow comes today .
Creating my own website today.
Jacob thinks my hair looks like a spider: just his puppy love :P
Ad blocker interference detected!
Wikia is a free-to-use site that makes money from advertising. We have a modified experience for viewers using ad blockers

Wikia is not accessible if you've made further modifications. Remove the custom ad blocker rule(s) and the page will load as expected.